Laboratory Services (Outpatient)
AmeriHealth Caritas Pennsylvania has selected Quest Diagnostics™ as our preferred independent lab provider, and this may be indicated on the member's ID card.
QUEST indicated on the member's AmeriHealth Caritas Pennsylvania ID card means labs must be processed through the Quest Diagnostics network.
Providers are encouraged to perform venipuncture in their offices, and should then contact Quest Diagnostics to arrange for pick-up service.
For offices that do not have a Quest Diagnostics account, the member should be directed to a Quest Diagnostics Patient Service Center.
For a list of centers, go to Quest Lab Locator. To become a draw site, contact Quest Diagnostics at www.questdiagnostics.com or at 1-800-825-7380.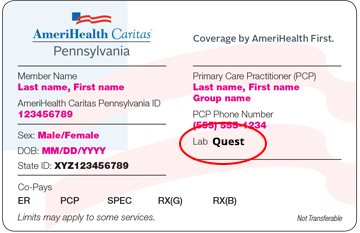 For AmeriHealth Caritas Pennsylvania member ID cards with no lab field or with nothing indicated in the lab field, providers may utilize any plan-participating hospital outpatient laboratory or Quest Diagnostics for lab tests or processing of lab specimens.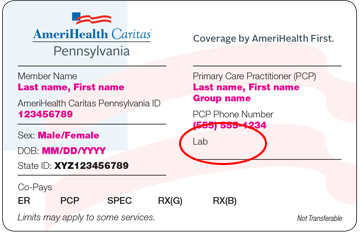 Additional laboratory information
No referral is required; only a prescription or lab order form from the requesting provider is needed.
The ordering provider is responsible for including all demographic information when submitting laboratory testing request forms.
We highly recommend that pre-admission laboratory testing be completed by the PCP; however, testing can be completed at the hospital where the procedure will take place and does not require a referral.
STAT labs must be utilized only for urgent problems. The ordering provider may give the member a prescription form or lab order form to present to the participating facility. STAT laboratory services (PDF) are defined as those that require completion and reporting of results within four hours of receipt of the specimen.