Senior Staff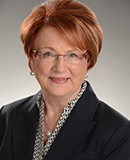 Marge Angello, R.N.
Market President
As the Market President of AmeriHealth Caritas Pennsylvania, Ms. Angello is responsible for the general oversight and day-to-day operations of the plan. She manages all aspects of the plan including Medical Affairs, Operations, Information Services, Quality, Marketing, Regulatory and Legislative Affairs.
Previously, Ms. Angello was the Interim Executive Director for AmeriHealth Caritas. Previous to this position, she was the Associate Vice President, Patient Care Management, where she was responsible for the direction and oversight of the Medical Management staff and case management activities. She also previously served as an Associate Vice President in the Medical Affairs department for Keystone First in Philadelphia.
With more than 20 years' experience in the managed care environment, Ms. Angello has held leadership positions with Keystone First, Keystone Health Plan Central, and HIP of New Jersey. She also practiced clinical nursing at Holy Spirit Hospital in Camp Hill, Pennsylvania.
A registered nurse, Ms. Angello attended St. Joseph's School of Nursing in Carbondale, Pennsylvania, and Marywood University in Scranton, Pennsylvania. Ms. Angello is a volunteer for the Pennsylvania Breast Cancer Coalition.
Read more

Read less

of Marge Angello, R.N. 's bio